Overview
This is a Convergence planning page. Normally, since the process of selecting the city for the next Convergence event is a bid and a vote, all this would be handled by the bid committee basically in private. There's rule about promoting bids before the allotted time frame before the vote, so that all bids have an equal timeframe to promote and generate enthusiasm for their vision. This plan, though, doesn't represent a bid. It's an anti-bid. It's a contingency plan for such time as we get no bids to vote on. So it's open. All the planning and consideration, negotiation and values, will get laid out here.  More real bid committees can watch what gets considered here, or pointed out as being intentionally not addressed, for things they should be thinking about and planning for in their own bids, and especially as a matter of things to address if and when they actually win the vote and are entrusted with that year's party.
Since this is kind of a sample there are a mix of falsed up numbers, promises and details that can't possibly be actually decided and contracted for at this point. If and when this actually becomes a Convergence event plan, it will continue to be updated in this space, but this notice will say how to determine what's real and what's example.
Convergence Dells
It finally happened. No bids were submitted. But I have a plan. You suckers are mine, now.
Convergence is on the second weekend of June.  This weekend was chosen  because it's a good two weeks after Memorial Day, more schools are done with their spring semesters which parents can and are encouraged to bring their kids, but it's still cool in Wisconsin and therefore the Dells are not yet at peak tourist rates. There's a lot to do here, so feel free to extend off either end. Our lodging rate is good for as early as the Monday before and the Thursday after the second weekend. [** Use real dates when we know what year this is. **]
Location
Wisconsin Dells is named for the "dalles", as French explorers called them; giant slabs of rock, carved out by water during the retreat of the most recent ice age. A stubborn chunk of ice ran from Green Bay to the Baraboo Hills that kept 160 feet of water trapped in what was effectively a sixth Great Lake., with an outlet into the Mississippi river to the west. Then, finally enough ice melted that water could run past to the south, and in a matter of months, maybe even just weeks, a tremendous rush of water drained the whole lake, washing out the sandy bottom and cutting dozens of feet out of the sandstone riverbed.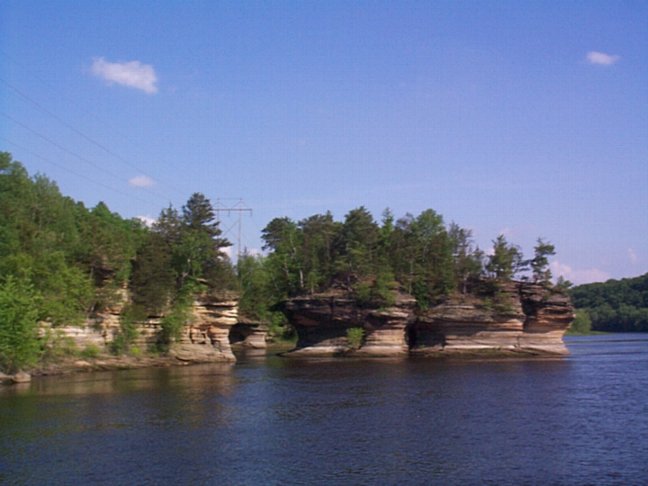 Needless to say, this area has been a tourist attraction literally as long as there have been people to see it. Only a dozen or so miles separate this natural wonder from the lowlands used to portage between the navigable Wisconsin River (which drains into the Mississippi River) and the Fox River (that drains into Green Bay, the Great Lakes and eventually the Atlantic Ocean), a convenient and well-known travel route east and west in the region, long before European explorers arrived.
Fur trade and lumbering brought Europeans to the area, and the the portage was invaluable in the ferrying of goods. Word of the natural beauty spread too.  Around 1850, the Dells started being a scenic stop for white people, with riverboat tours and the nascent town of Kilbourne (which would become Wisconsin Dells in a century), a dam to tame the waters and a railroad bridge built more or less specifically to convince the railroad company to route through the area and bring tourists. Which brought the need for restaurants and hotels, and begat more attractions and more hotels, campgrounds, restaurants until two whole cities (Wisconsin Dells and Lake Delton to the south) support tourism and fun, and support the people that support the tourism and fun.
Getting There
In spite of being a destination, Wisconsin Dells is still a spot between. Getting there involves travel from someplace else. Train is still an option. Amtrak stops daily at the bridge over the river that was built to bring people there. Greyhound makes trips about daily trips as well. Interstates 90 and  94 run right past, about midway between Minneapolis and Chicago. But there's no scheduled air service, and the closest is in Madison an hour's drive away. Flying to Minneapolis-St Paul or Chicago and driving three hours from there is also reasonable.  [** Event Planning: May want a volunteer to help coordinate carpooling and contact info exchange. **]
Lodging
Our lodging provider will be Mt Olympus Resorts. [** get lodging to agree to put all the Convergence people in Building 21 through 24 unless guest asks otherwise. **] Bunk beds are available for children. All rooms include free park admission and free park parking for each day of stay. Our buildings are 21-24, which are about a mile south of the Coliseum.
Rates
1 or 2 Queen are $105 per night
1 or 2 Queen + bunks are $160 per night
3 Queen suite are $195 per night
3 Queen suite + bunks are $260
[** rates TBD when lodging contract is signed. Scout for room count in buildings, wildass guess at this point is about 100 rooms. **]
Parks
The parks include indoor and outdoor thrill rides and water parks. Park hours during Convergence are 10 AM to 10 PM daily. [** confirm this when schedule is released — only up through March now.] Water and thrill rides have varying minimum and maximum sizes/ages.
Non-resort attractions
Please visit the chamber of commerce-run site for an overview of all of the Dells attractions. Link>>>
Music
There will be some. Matt said he'd help. We'll find a venue someplace.